Grand Valley Brazilian Jiu-Jitsu
Instructors
At Grand Valley Brazilian Jiu-Jitsu, ethics are everything. Our school is founded upon four objectives:
Provide high-quality training

Build confidence

Empower students

Create a sense of family
Grand Valley Brazilian Jiu-Jitsu
Instructors
With centuries of history and deep roots in personal growth, martial arts is more than a sport – it's an art form. For this reason, we prioritize the quality of our school culture just as much as the quality of our training. From the moment a student walks through our doors, we do everything we can to make them feel at home. We consistently foster an environment that is safe, welcoming and uplifting.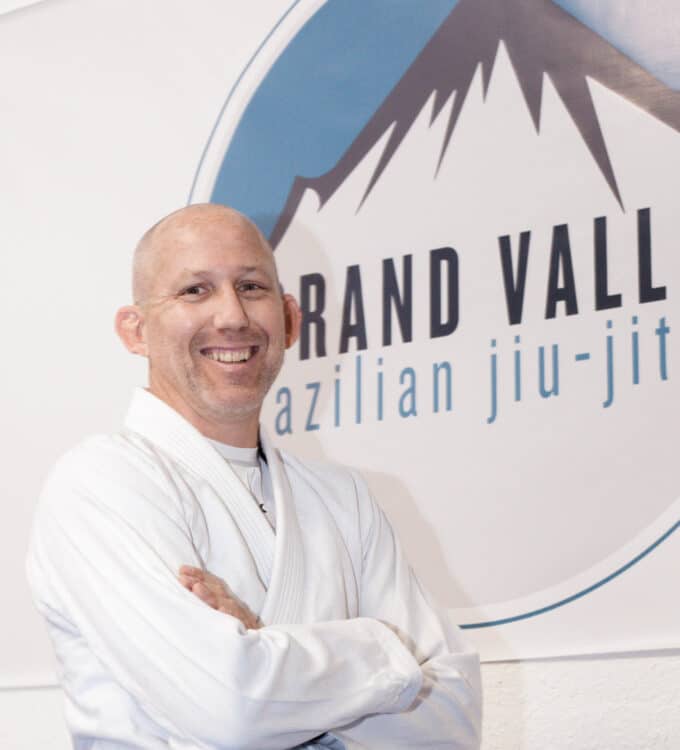 BJJ Coach
Kevin Lewis
Coach Kevin began his martial arts journey in 2000 under Marc Hagebusch (3rd Degree BJJ Black Belt) at Texarkana Jiu-Jitsu in Texarkana, Texas. Promoted to the rank of Black Belt in 2010, he was awarded his 3rd Degree in 2019 by the Founder of GFTeam and ,7th Deg Coral Belt, Master Julio Ceaser Pereira.
Kevin spent 8 years with he Air Force Reserve as a Medic and over 12 years working as a Police Officer in Texarkana, Texas and most recently Grand Junction, Colorado before deciding to run the Grand Valley BJJ full time.
In the 10 plus years training at Texarkana Jiu-Jitsu, Kevin assisted in teaching the Adult and Kids Classes at Texarkana Jiu-Jitsu. Kevin has competed successfully in MMA as well as grappling competitions and has a extensive background in teaching Police Officer Survival Tactics.
Coach Kevin's Brazilian Jiu-Jitsu lineage
Kevin Lewis – Marc Hagebusch – Allen Mohler – Romero "Jacare" Cavalcanti – Rolls Gracie – Helio Gracie – Carlos Gracie Sr. – Mitsuo "Count Koma" Maeda
Read More
Muay Thai Kickboxing & Kids BJJ Instructor
Cameron Thurgood
Coach Cameron currently teaches our Muay Thai Kickboxing class on Monday, Wednesday and Friday, as well as the Saturday morning kids BJJ class.
Cameron began his training specifically for MMA in 2006 building a successful MMA career and winning 3 different amateur titles in 2 different weight classes. In 2010 he began training BJJ and received his Blue belt in 2011 from Coach Matt Busker (Gracie Barra). In February of 2018 Cameron received his Brown belt from Coach Kevin. In He is a very active BJJ/MMA competitor and is the head Muay Thai Kickboxing Coach.
Read More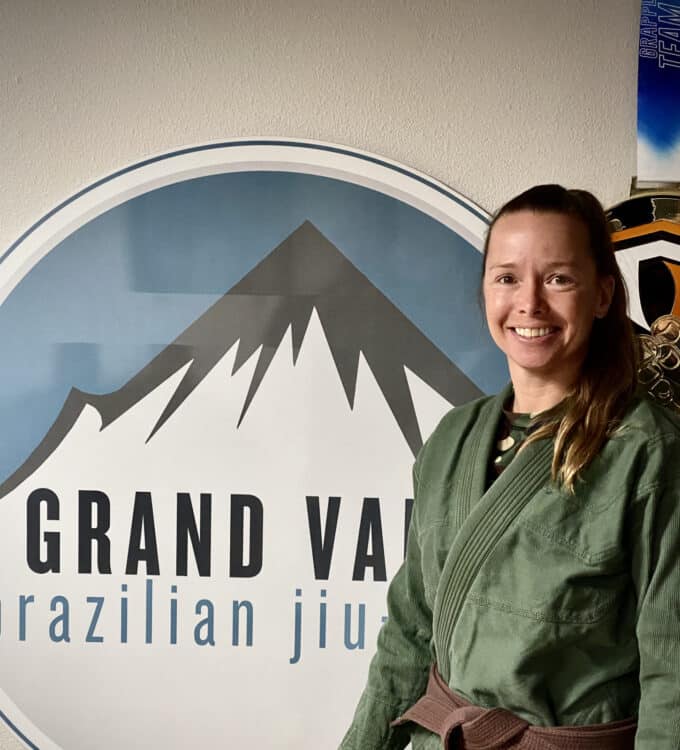 Gi and Nogi Instructor
Nadia Sweeten Lewis
Coach Nadia currently teaches our Wednesday Gi and Thursday Nogi evening classes.
Nadia is a brown belt in brazilian jiu-jitsu. She began training in 2014 and fell in love with competing with only three months of training under her belt. She went on to miss Fighter of the Year as a white belt in the Fight to Win Tournament Series by only 2 points due to an injury causing her to miss a tournament mid season. Nadia came back as a blue belt and won the 2016 Fight to Win Women's Blue Belt Fighter of the Year. She then went on to the World Master Championships submitting her way to the finals as a blue belt and as a where she won the silver medal and again as a purple belt podiuming with the bronze. Nadia has also been a professional hunting guide for 13 years operating her own business in Mexico and guiding horseback hunts for deer, elk and sheep in Wyoming. She began coaching the adult beginners class and assistant coaching the kids bjj class in 2018, receiving her brown belt in 2021. "Jiu-jitsu has fundamentally changed my life, not only on the mats but in my relationship with my self and life it self. Jiu-jitsu has a way opening your perception in how you think about yourself and your capabilities and also how you relate to and respond to others. BJJ is a discipline, one with respect. When you enter the world of jiu-jitsu there is no going back. You will outgrow your old self and discover your true potential and you will always have a family on the mats weather its in your own gym or across the world on some foreign mats. Jiu-jitsu is truly that kind of community. You learn to honor and respect your opponents and you learn to honor and respect your self." ~ Nadia Sweeten
Read More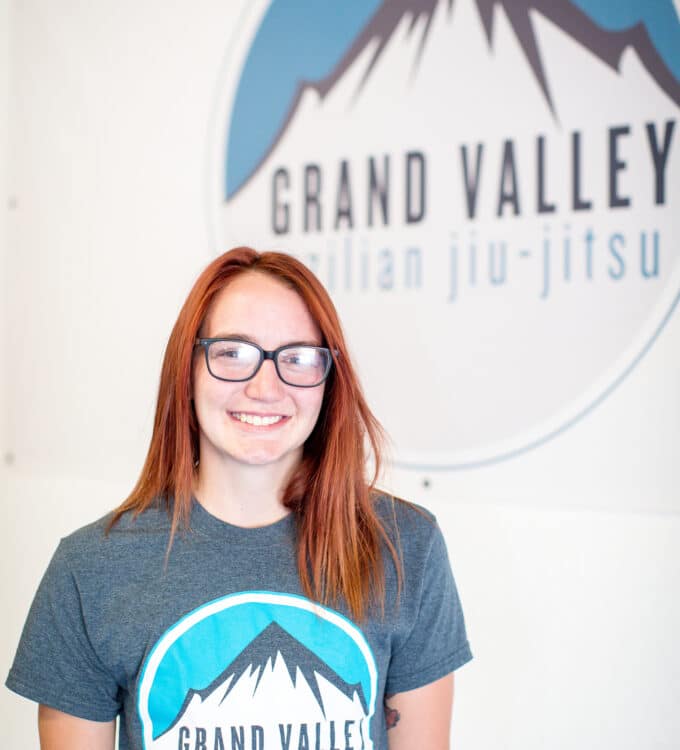 Kids Muay Thai Kickboxing Instructor
Hailee Wemple
Coach Hailee currently teaches our Kids Muay Thai Kickboxing classes.
Hailee was born and raised in Grand Junction. "I discovered BJJ through a ride along with Coach Kevin. Since the first day, I knew everyone here would be my second family." Now a BJJ Blue belt, Hailee is consistently training and competing in kickboxing, MMA and BJJ.  Hailee is the Coach of all our Kids Muay Thai Classes. "When I'm not training or fighting I love hiking, camping and traveling."
Read More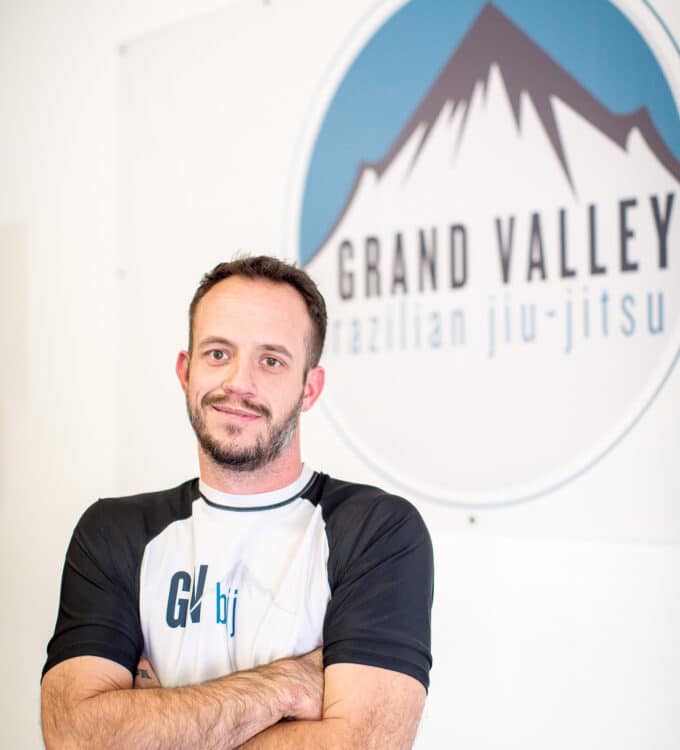 Muay Thai Kickboxing Fundamentals Instructor
Tyler Veatch
Coach Tyler currently teaches our Tuesday and Thursday night Muay Thai Kickboxing Fundamentals class.
Tyler, was born and raised in Grand Junction; graduating from Palisade High School. After high school he joined the military. When he separated he entered the corporate world. Without an emphasis on fitness, he quickly gained an unhealthy amount of weight. Dissatisfied with his lifestyle he decided to make a change and attended the inaugural Muay Thai kickboxing class. At the end, he wasn't sure he could physically do it but he didn't allow himself the chance to make an excuse. Now, four years and nearly 100 pounds lighter, he is in the best shape he has have ever been and have made lifelong friends and gained a family.
"You might be tired, sore, questioning yourself. Don't give up. I did it and so can you. I believe in you." – Coach Tyler
Read More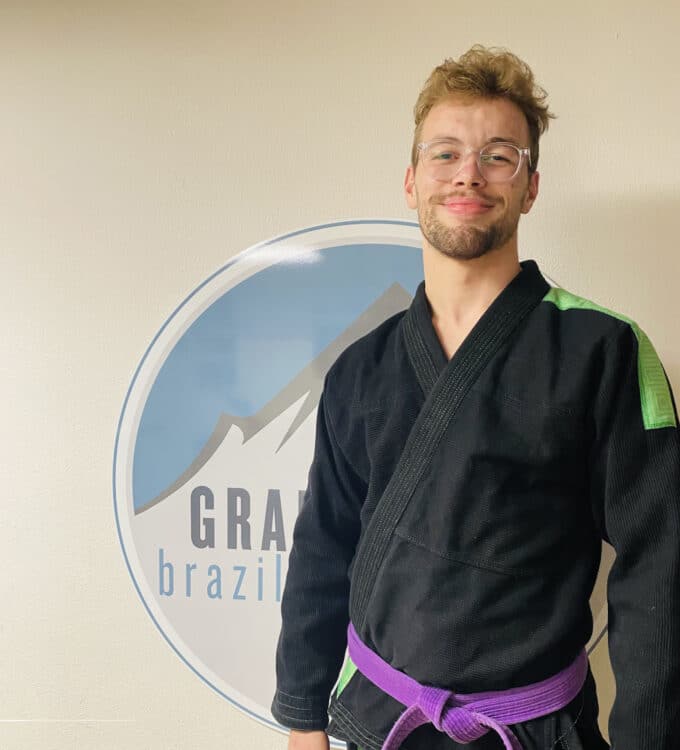 BJJ Instructor
Kalum Klausner
Starting Jiu Jitsu at five years old Kalum has been training for 15+ years. After progressing through the kids, teens, and now adult ranks he hopes to pass down the lessons he has learned to others. As an avid competitor and student Kalum has achieved medals at IBJJF Pan Ams, Worlds, and American Nationals. Kalum started Jiu Jitsu in 2005 in New Jersey after being harshly bullied in grade school. Moving to Spokane WA, followed by many years in St Louis, MO (where he entered the professional Jiu Jitsu World) Kalum has now found a home at Grand Valley Jiu Jitsu. His goals include winning major titles, forming a team of avid competitors (Teens and Adult) with a focus on mental training, and graduating from CMU / CU Boulder with a civil engineering degree.
Read More
Amazing place! Kids have lots of interaction, never bored. Every time they learn something new! Great coaches! Great place!
I am a professional fighter that has trained in a lot of gyms. Just after one class I feel that training with Tyler Veatch and Cameron Thurgood I can be a successful fighter! The curriculum really sharpens the technique and makes you understand why it works.
Very humbled by the kindness and welcome I received at this school. I travel quite a bit for work and I reached out to Kevin regarding an opportunity to train just for a night when is was in Grand Junction and he and the team welcomed me with open arms. Cameron introduced himself and gave me a tour and once the No Gi class got started they paired me with other people who were new to jiu jitsu and had a great attitude. Because some of the guys were attending back to back classes they were a little winded so Kevin let me roll with him. I can tell it is a great place to learn and has an awesome community. I will be back whenever I am in town.
Grand Valley BJJ is a very friendly and encouraging atmosphere. The up beat attitudes of the gym are completely infectious! Instructors are extremely knowledgeable. I will continue to travel from out of town just to get the pleasure of training with this amazing gym!
My kids have pretty much grown up in this gym. Kevin, the owner, and his wife, Nadia, are exceptional owners and run the facility with the best instructors. The atmosphere is not intimidating or competitive. It's very friendly and from the moment you walk in you are greeted like a friend. The kids always get a good workout and lesson every single class. They have made some life-long friendships and have learned important life lessons that will take them farther in life in the real world. This place is like our second home and we couldn't ask for a better BJJ place to be at!
Moved from another state so finding a gym to continue training was important. Friendly and welcoming is an understatement. Additionally the skill level is high in both the students but also the coaching.
Are you interested more in what Grand Valley Jiu-Jitsu has to offer you?
Special Offers